Read my Knight News Challenge entry (and even vote!)
I have applied for a grant in the Knight News Challenge, a lively contest to improve the news media through digital publishing.
My
idea is CityPipeline.com
, a Web hub
for news and information on local real estate development. CityPipeline is basically a local real estate map that you can filter, search and add information to.
For each project, the map can or would eventually include:
stage in the development "pipline" (in planning, approved, under construction)
new leases

building sales
city council votes
planning commission votes
links to news articles
links to blog entries
related documents

I have a rough prototype running at
sfpipeline.com
(IE or Firefox, no Safari yet), which looks like this: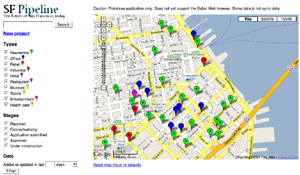 It's sort of a
Bloomberg terminal
for local real estate, but on the Web and free.
Read all about it on the Knight News Challenge site
.
If you have a few minutes,
vote on the project too
(click next to the stars; you have to create an account but it only takes a minute).
Labels: personal