24X7X7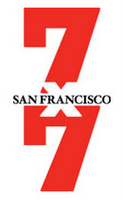 7X7 magazine is preparing to launch a bunch of blogs, including more than one focused on food and restaurants, someone familiar with their plans told me at the Golden Gate Restaurant Association's annual political fundraiser last week. Susie McCormick, 7X7's publisher, confirmed for me that something along those lines is coming from the magazine, but she won't give any details yet, saying it's premature to talk about.
It's a crowded market.
Amy Sherman
, who I spied at the fundraiser, is
blogging for KQED
.
Chez Pim
recently started blogging full time.
GraceAnn Walden
, recently decamped from the Chronicle, publishes an email newsletter. And then there's Michael Bauer, publishing a very solid
blog
for the Chronicle.
But I wouldn't count Susie out. Her ties to the restaurant industry are deep, dating back to her days at the helm of SF Magazine and Where Magazine. Even further than that, actually: her first husband was the McCormick of McCormick & Kuleto's.
And New York Magazine, 7X7's peer in Gotham, has done very well with its
Grub Street food blog
, earning kudos from
even the snarks at Gawker
.
PS: I've got a big article coming out on something else related to Susie and restaurants in tomorrow's Business Times.