Dlibert creator flails with restaurant in Bay Area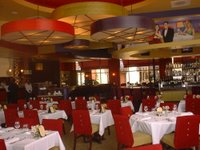 Dilbert creator Scott Adams is struggling to manage his restaurant "Stacey's" in a Dublin strip mall, according to
a New York Times story today
.
The restaurant is bleeding money as customers choose national chain restaurants over Stacey's. Owner adams took over the deteriorating operations in July and tried to improve everything from the food to the decor, but his staff just laughed at him and compared him to an actual infant baby, probably because he has no management experience and virtually zero restaurant experience (he bussed tables a long time ago).
Nevertheless, the whole staff seems to think he's a great guy, and not a terrible boss. Now he's trying to use his Dilbert celebrity to drive business to the place. Oh, also, he has a smaller Stacey;s in Pleasanton that is doing well.
Thanks to the chef-owner who sent me this -- with no small dose of Schadenfreude, surely.
NY Times:
The Tables Turn for Dilbert's Creator
Labels: restaurants