Farmer Brown wants to reap new place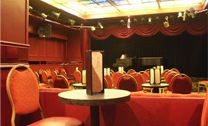 Farmer Brown
chef-owner Jay Foster wants to take over the Plush Room in the York Hotel,
the hotel's new owner told me
.
Personality Hotels is buying the York from CTwo hotels, plus the Maxwell Hotel from Joie de Vivre Hospitality, bringing its total stable of Union Square hotels to seven.
Personality is already landlord to Farmer Brown: the neo-soul food restaurant is located in the company's Metropolis hotel.
I learned all this at a party for the Diva hotel, which was recently renovated with the help of a bunch of up-and-coming artists. Personality Hotels founder Yvonne Lembi-Detert was excited about the new hotels, but gave no indication on how likely she is to let Farmer Brown run the Plush Room.
Prior to writing my story, I confirmed the hotel sales with CTwo and Joie de Vivre. But after we went to press, someone from Personality called to tell me that the loans for the acquisitions are not fully nailed down yet, so these are not quite done deals at the moment.
The
Plush Room, aka Empire Plush Room
, is now run by Razz Productions.
This all comes from
a story I wrote on Personality Hotels
(free link) in Friday's Business Times.
Labels: bars, hotels, real estate, restaurants, scoop