Larry Biggie writes in to defend what remains of his honor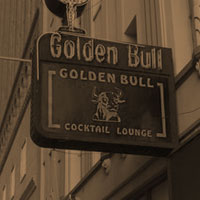 A couple of weeks ago I noted that a couple of Oakland entrepreneurs were trying to follow the path blazed by Cafe Gratitude of San Francisco and get customers to finance their cafe bar by pre-paying for gift cards ("
The future of restaurant finance is here: Oakland man pre-pays for $1000 of beer
").
According to the Oakland Tribune
article
at the time, the aspiring cafe owners had sold only about $14,000 of the $125,000 they needed in pre-sales, almost entirely to friends and family.
But then there was Larry Biggie, of Adams Point, who pre-paid for $1000 in gift cards.
I wrote, "That's a lot of organic beer, Larry." Heh. I crack myself up sometimes.
Anyway, Larry, who is apparently a banker and also apparently a real, actual person with the best ever name "Larry Biggie," has emailed to say he had
coffee
more in mind than beer.
He was a good sport about the whole thing and apparently got a good laugh out of my post, which is awesome, because people with that much caffeine in their system usually take every little thing wayyyy too seriously.
Come to think of it, Larry, are you sure you aren't a beer kind of a guy?
I also heard from one of the Awaken Cafe people, Cortt Dunlap, also a nice guy. And yes, Cortt, you're right, I am both a journalist and self-styled programmer, which makes me pretty much the perfect demographic for a place that sells alcoholic beverages and coffee, respectively. Given the scale of my habit I'll need about $6k per year, which I'm not sure I can swing, but on the other hand I did just meet this overcaffeinated banker ...
Labels: oakland, restaurants, Things deemed to be "awesome"