Michael Bauer gets his Izakaya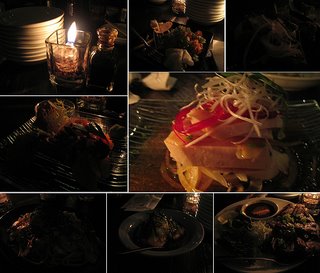 What Michael Bauer wants, Michael Bauer gets!
Well, except for a decent table where other patrons don't
brush
against
him
a million times an hour, or a small plates restaurant with
any
sense
of
pacing
, or a
respectful
hostess
half the time, or ... well ... maybe he can't exactly snap his fingers and get whatever he wants.
But he's getting Izakaya!
And the news comes within just two months after Bauer
noted on his blog
that "the Japanese izakaya way of dining has largely passed us by" in the Bay Area. Izakaya is Japanese bar food.
Exhibit A:
The planned Japanese restaurant and baseball lounge at O
(free link, see fourth paragraph) in the Japantown Miyako Hotel, soon to be renamed Kabuki Hotel, is supposed to focus on Izakaya dishes. Supposedly they have the designer who did Bix and Myth, they had not named the chef by the time I wrote that story but supposedly were excited about a local up and comer. This is a Joie de Vivre property -- look for close to a dozen new restaurants from them over the next two years, openings overseen by their new food and beverage director David Hoemann.
Exhibit B: SF restaurant Ozumo, which is planning two distinct restaurants in Oakland, is
planning an Izakaya menu
(free link) at the one carrying the Ozumo name, at Broadway and Grand Ave.
(Photo courtesy SiFu Renka)
Labels: oakland, real estate, restaurants, scoop