Ogden has 'less active role' in Lark Creek Restaurant Group, Dellar says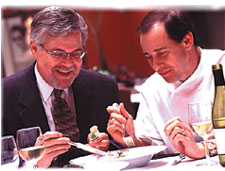 My coworker Elizabeth Browne at the Business Times reports in this week's issue on all the growth at Lark Creek Restaurant Group, and interestingly gets co-founder Michael Dellar to admit that his partner, chef Bradley Ogden, has taken a big step back from the business.
It seems Ogden is especially uninvolved in Bay Area restaurants like Yankee Pier and Lark Creek Steak, according to money man Dellar. From the story:
The 8,000-square-foot Bradley Ogden opened at Caesar's Palace in Las Vegas in 2003, and was named best new restaurant for 2004 by the prestigious James Beard Foundation. Ogden moved to Las Vegas to start the venture and

has since taken a less active role in the company, Dellar said, with culinary efforts now headed by Adrian Hoffman

, former chef at One Market.

I asked Dellar about his relationship with Ogden in February. He said Ogden was still with the company but had pulled back:



He's just not here very much

... He's here occaissionally -- he makes regular visits here, but his time is spent more and more with our business partners [for example in Las Vegas].

In the Meantime, Dellar is growing
the company
from 11 restaurants now to 13 in 2008 and 16 in 2009, in the greater Bay Area and "Southern California, Phoenix, Scottsdale, Ariz. and the Seattle area." Revenue companywide will be around $45 million this year.
Business Times:
Lark Creek is flowing into new locations
(subscriber-only link for three weeks)
Labels: business times, restaurants, scoop