Thomas Keller backlash close to boiling over
To some, 'slipping' French Laundry is 'not the best,' 'disappointed' customers say other chefs 'within striking distance'




Is the mainstream media next?
—•—
It was exactly two years ago Monday when a well-established weblog called San Francisco Gourmet
posted
a surprising, reluctantly brutal review of Thomas Keller's iconic restaurant the French Laundry, saying that over three visits between 2003 and mid-2005 the restaurant "appears to be slipping," mixing up orders, fumbling dish descriptions and letting waiters regularly reach across diners to deliver food and wine.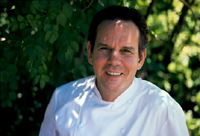 Meanwhile, the review noted, French Laundry's prices had nearly doubled over five years, rocketing up much faster than those at other top-shelf restaurants in the area, even as those other restaurants gained ground against the French Laundry in food and service quality.
"The French Laundry has exhibited service that has consistently been below excellent," the review stated. "The menu itself seemed to be a notch below what it once was ... I suspect that The French Laundry will not be able to reclaim its past glory."
Reaction to the review was not encouraging. One commenter called it "blasphemous" and said it "lost all credibility" by comparing the French Laundry to a lesser restaurant, Gary Danko. Meanwhile, San Francisco Gourmet drew no concurring opinions from the torrent of French Laundry reviews gushing from the many new weblogs then emerging.
"I was starting to think that I would be the lone voice in the wilderness forever," the author of San Francisco Gourmet
wrote
earlier this year.
In retrospect, the review was a remarkable harbinger of things to come, probably because it was written by someone especially familiar with the restaurant, with at least six visits to the restaurant in five years.
In November 2006, almost a year and a half after San Francisco Gourmet's French Laundry piece, a blogger and self-described lifetime gourmand named Vedat Milor posted a review titled, "
The French Laundry: Solid but imperfect
." Milor, too, had visited the restaurant on numerous past occasions and felt it was slipping.
He said the restaurant "displays an automatic, slightly assembly line quality," with predictable food, weak examples of luxury ingredients like truffles and caviar and undisclosed add-on prices.
This description echoed Gary Danko, who called the French Laundry "the Laundromat" when I interviewed him shortly after the French Laundry took three debut Michelin stars to Danko's one.
This past May, a San Francisco-based freelance food writer named Catherine Nash chimed in with
her own critical take
on the Laundromat. She had visited four years prior, and the restaurant had exceeded her high expectations. This time?
"We were not blown away," Nash wrote on her weblog, Food Musings. " It was not nearly as exciting as we'd remembered or as wonderful as other meals we've had ... it was just not that interesting."
San Francisco PBS station KQED joined in the backlash in June, publishing on its "Bay Area Bites" website
a French Laundry review from Michael Procopio
, a waiter, former San Francisco Chronicle food section intern and 1997 graduate of the California Culinary Academy.
This story was the first faintly negative review of French Laundry I had seen, and the one that sparked the idea for this post, even before I heard backlash rumblings in the bigger, non-blog media world.
The review included some highly complimentary words for the food and servers. But Procopio found "something was not quite right," including the robotic staff, who insisted he order champagne rather than a still white wine; who recited dish descriptions while mispronouncing key words and who ultimately sent a chill up his spine. Procopio concluded the restaurant embodied "uniformity," "repetition" and "machinery well-oiled."
His unease reached its dramatic crescendo when an aggressively confused waiter read Procopio's $1277 bill aloud to Procopio, his dining companion and the rest of the restaurant.
We were pleased to know that everyone in the room knew how much we spent. Perhaps our waiter thought that a guest at one of the other tables might avail us of his or her superior math skills. We were, all of us, quietly horrified.
Three themes emerge repeatedly in the bad reviews.
Speculation that the opening of Per Se in New York, to say nothing of Keller's three other expansion restaurants, movie consulting or books, has led to an inevitable muting of the culinary and service heights reached at the original French Laundry. San Francisco Gourmet and Milor both mentioned this issue, and Nash brought it up in a comment attached to someone else's review.


That people are holding the French Laundry to very high standards because of its very high prices, which have shot up over five years. Keller was asked about pricing at a Commonwealth Club event in May and became defensive, arguing that he provides good value for the price and pointing to the much cheaper option ($45) at his Ad Hoc, also in Yountville.


The identification of alternative top restaurants, in particular Manresa. San Francisco Gourmet, for example, wrote that Manresa's David Kinch is giving Keller "a run for his money" and, along with Danko and Ron Siegel, is "within striking distance." Milor said Manresa and one other restaurant offered "higher quality product" than French Laundry, "impeccably prepared."

The blogger behind ChuckEats.com earlier this month ranked Manresa ahead of French Laundry in a review where he found the latter's food seemed to sympathize with critics who find at French Laundry "a perfection without blemish or character, sanitized, safe, and soulless."

I am agnostic on whether French Laundry is slipping. My one
visit
to French Laundry in 2003 was my all-time favorite restaurant meal; it also featured a tasting menu half as expensive as the one offered today.
But I will submit to you the following: Hand-wringing over quality at Thomas Keller's growing empire of restaurants in general and at French Laundry, in particular, is likely to continue to work its way up the media food chain, rightly or wrongly. Count on it, and watch for it.
Labels: Gary Danko is into eunuchs, If you can't say something mean you shouldn't say anything at all, restaurants, Thomas Keller