Picketing the pate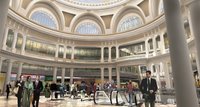 No sooner did San Francisco's hotels settle their two-year-old union dispute than a new group of picketers readied themselves for battle in the foodie court at Westfield's Emporium redevelopment.
When the new wing of San Francisco Centre opens later this week, it remains a distinct possibility that members of a union affiliated with the hotel union will be on hand to picket the centrepiece (cough) attraction, the 30,000-square-foot gourmet grocer Bristol Farms, a kind of Southern California version of Draeger's Markets.
As a redevelopment project, the mall has pledged to allow union organizing. What that means, exactly, is unclear. What is known is that Bristol Farms is a non-union shop in the crosshairs of the United Food and Commercial Workers Union.
Linkage: Matier and Ross
reported
the story Sept. 20, CBS5
picked up
the item, and Sunday SFist mentioned the dispute in its Emporium
roundup
.
Labels: hotels, labor, restaurants, sfcentre