Charles Phan only now realizing he opened his new restaurant in the MALL FOOD COURT. Ahem.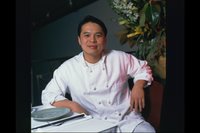 Apparently people are minting money at the year-old expansion of Westfield SF Centre mall, but not poor Charles Phan of Slanted Door, who has a restaurant in the basement food court called Out The Door.
Bloomingdale's made a year's worth of money in nine months at the mall, but Phan is all, :-(
As he
told my colleague Sarah Duxbury last week
:

... his Out the Door concept is only doing OK.

"People are not embracing the mall in the evening as much as I'd like to see," he said, adding that his 150-seat, 5,000-square-foot restaurant gets only one dinner seating and is not meeting his projections.
See? No turns at dinner!
Imagine that. People not wanting to eat dinner in the mall food court. Hmmmm.
Phan's expectations may be just slightly inflated by his experience at the Ferry Building, where since opening in 2003 he has made close to $12 million per year. There, he does two or even three turns each night at dinner.
Besides Westfield, Phan now has spinoffs in the works in Pacific Heights, mid-Market and at the California Academy of Sciences.
Business Times:
Westfield dazzles
(free link)
Labels: business times, new charles phan restaurant opens in restroom of existing charles phan restaurant, restaurants, sfcentre