Late at night, restaurants struggle to make money
Who would have thought: paying restaurant workers time and a half on a $9.14 minimum wage does not do much for the bottom line, especially when everyone is sitting around twiddling their thumbs because it's one in the morning and no one knows your kitchen is open, so the place is empty.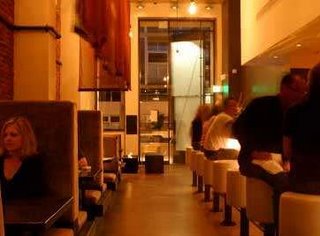 Also, everyone did their heavy drinking and eating earlier in the night, somewhere else, so your margins are shot.

"In total, it probably is a wash," said Laurence Jossel of Nopa, the 11-month-old Western Addition hotspot that keeps its kitchen open until 1 a.m. every night. "Some people start this and fade out, because it's a commitment -- in terms of time, in terms of lots of things, especially financially."

Of course, this is the dark view of late-night dining. On the bright side, San Franciscans are slowly but surely becoming trained to expect certain restaurants to stay open well past 11 p.m., so business is ramping up for late night places.
I give a taste of the economics of open-late restaurants in a story from Friday's Business Times:
Eateries bite into the night
(free link)
The story is sort of dollars-and-cents coda to Amanda Berne's
excellent story on late-night dining
in the Chronicle in October.
Labels: business times, restaurants