Your nightlife does not impress Sean Penn or the lady who runs Tosca. Nor does your 'physical fitness.'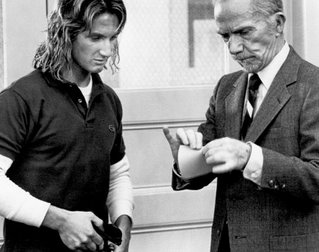 If paying a
$500 table charge
,
$300 for bottle service
and your
human dignity for admission
to the latest and greatest in San Francisco nightlife all makes you throw up in your mouth a little bit, you are in the good company of Sean Penn and Tosca Cafe proprietor Jeannette Etherdge.
Both sound off in an engaging article on Tosca by Burr Snider in the May issue of San Francisco magazine. (Not online, sadly, so no linky.)
And Jeanette, man, she has
had it
:
It's not Herb Caen's town anymore, that's for sure ... This city used to be a party every night. There were the Beats and the hippies and the jazz clubs -- Chet Baker at the Jazz Workshop, Thelonious Monk at the Blackhawk -- and everybody mixed it up. I mean, you'd see Saroyan and those guys and all the Pacific Heights people out in the clubs.

They all jog now or go to the gym

. Instead of a shot of Jack, it's a shot of wheat germ. Maybe there's a whole new life with this generation south of Market and other places, but I'm not a part of it. I'm definitely nostalgic.

... If I didn't have my own place, I'd probably live in Chicago.
Sean Penn has also apparently had it with the kids and their overpriced
yuppie meat markets
where everyone looks like they are posing for a slot in a reality TV show:
I can go in there (to Tosca) and

not feel like a part of the generation that comes up behind me

, and I'm talking about everything, from the floor to the ceiling to the cushions on the booths.

The article calls Etheredge a "sublime presence on the stool by the cappuccino machine at the far end of the bar."
"I've never been in a bar that so much reflected the personality of the person who ran it," [former Examiner editor David McCumber] said. "Jeanette's smart and wickedly funny, and she collects great people who love her madly. And of course she was shrewd enough to retain the amazing look of th place, the dim lighting, the jukebox that plays Caruso and Patsy Cline. I don't know how she does it, but to me the place just glows."
The list of Tosca celebrities in the article alone is staggeringly long. Consider that Robin Williams and Hunter S. Thompson not only drink/drank there but
actually worked as employees
, running the bar for a night each.
Other people tied to Tosca over the years, according to the story:
Francis Coppola
Peter Fonda
Juliette Binoche drinking with ...

Gerard Dépardieu
David Byrne
Winona Rider riding on the shoulders of ...
Lawrence Ferlinghetti
Tom Cruise hanging with
Matt Dillon

Chuck Yeager and
Dennis Quaid

And then there's this interesting nugget about the Chronicle:
Just a couple of years ago, a nasty scuffle erupted during a party thrown by the San Francisco Chronicle to honor its Pulitzer-winning photohrapher Deanne Fitzmaurice. Apparently, one of the paper's top female editors got a little too unwound and leaped onto the pool table to dance. This didn't sit well with a

very

senior male executive who saw fit to yank the editor down by her hair

. Much unseemly pushing and shoving ensued, and the incident caused quite the little scandal at the paper. For Etheredge, it was just another night's work, but she got a huge kick out of the profusion of flowers and gifts and abject notes of apology sent by the remorseful miscreants to get back in her favor.
I'm trying to think of a VERY senior Chronicle guy (emphasis in the original), maybe one with close ties to Hollywood and Sean Penn and thus inclined to gallantly defend Tosca's and thus his possible, coveted back-room access, and am coming up
totally
blank. Completely.
Labels: bars