Farina neighbors really, really pissed off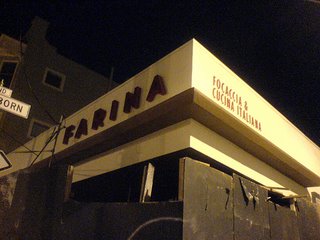 Neighbors of Mission District Italian place Farina are upset over how the restaurants' customers are double parking their cars and worried about the rooftop seating and the full liquor license.
They think the joint is going to become a haven for loudmouth
drunktards
who will scream from the rooftop and puke all over their streets and leave their cars in all kinds of illegal places.
Eighty of them complained to the restaurant owners before the place was even built -- parking was already out of control. Then they found out about the roof seating and full bar and got more pissed.
Then 50 wrote letters against the place to the Planning Commission. The commission approved the restaurant anyway and everyone got triple pissed.
The
restaurant opened
in June, approximately, which apparently pissed the neighbors off even more.
One neighbor got so pissed he was arrested for throwing paint on cars parked illegally outside the restaurant. The only witness was someone from the restaurant so the charges were dropped.
But just to give you a sense of how being pissed can change a man: the guy allegedly throwing paint is, by day, working as a criminal
attorney
.
Also, he told SF Magazine, on the record, as Matt Wilson, the following: "I just want everyone to know that this restaurant has fucked me."
Like I said:
Piiiiissed
.
SF Magazine, which wrote about the whole situation (offline, since it is now the year 1993), thinks Farina's owners need to learn to be more nice and friendly to the quadruple-pissed neighbors, because after all Delfina, Range and Bar Tartine have learned to do so.
Either that or just keep having them hauled off to jail for being so damned pissed all the time.
(Photo courtesy of katerw on Flickr via Creative Commons license.)
Labels: bars, drunktards, restaurants