Hoist Thomas Keller by his own Sysco petard, no really GO AHEAD, says ex-employee!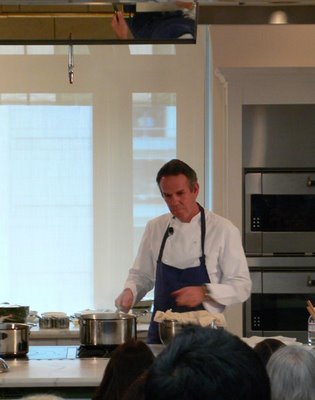 There's an
awesome new post
in the comments from ex-Thomas Keller employee "Ken," who confirms that, yes, Keller uses Sysco frozen fries at Bouchon to make what
food-media empress
Laura Froelich has
declared
are the best French-fried potatoes on the planet.
But Ken's bigger message is that Thomas Keller has no secrets.
Ask him for the model number of his fryer, he'll tell you. Ask him for what kind of Sysco oil he uses, he'll tell you.
Wait, what?? He uses Sysco OIL even?? Not like goose fat, or rendered Unicorn, or at least the carefully distilled juice of a grass-fed free-range happy cow? God this keeps. Getting. Worse.
But anyway, the point is, you could totally TAKE ON Thomas Keller using nothing more than his goodwill and copies of his own cookbooks. Here's the whole comment:
As a former employee of TK, I will tell you that you are correct about where the fries come from. I will also tell you that if you asked Thomas or Jeff Cerciello, they would tell you what kind of fryer they use and what kind of Sysco oil they use too.

Now, all you have to do is cook and season the fries.

Match what they do and open your own place, it's that simple

.

TK has never hidden anything from anyone.

His recipes and techniques mentioned in the TFL and Bouchon cookbooks are on the money and the same as the cooks thaqt work for him carry around in their precious pocket notebooks. TK feels that all you need to know about working for him or cooking in general is - desire.

Another secret about TK is that the pork he uses actually comes from pigs, but don't reveal this, it may cause a stir.

I hope all you local chefs looking to steal Thomas Keller's Michelin-star-studded crown got all that. Basically all you need is DESIRE, along with some chutzpah, hard work, Thomas Keller cookbooks and the ability to READ.
Hey where'd all the chefs go after the last part??
View comment with original post

(Photo cropped from original courtesy mikebaudio on Flickr via Creative Commons license. You may redistribute and "remix" this cropped version under the same license.)
Labels: food, restaurants, Thomas Keller