Waiters leapt for $6,000 tipper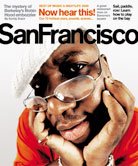 A juicy story in October's San Francisco Magazine details the restaurant largesse of convicted embezzler Carol Huang.
Or, as they call her at Chez Panisse, "Berkeley's Robin Hood."
Huang jacked more than $11 million from Edward Scarff by secretly mortgaging his house, cashing in his life insurance and taking out business loans in his name. Scarff is supposed to be enjoying his retirement, but instead he's now bankrupt.
Some East Bay restaurateurs still hold Huang in high regard, however. Former Chez Panisse maitre d' Lee Ann Philips told the magazine that Huang, who dined at the high-minded restaurant before and after her embezzlement came to light, was dubbed "Berkeley's Robin Hood" by Chez Panisse staff. Quoth Philips:
You have no idea how much she did for people, how many lives she changed.
Well, Lee Ann, we can imagine. Especially after reading Gordy Slack's article.
After a 50-head, $6,000 dinner at Oliveto, Huang not only paid the $1,000+ service charge but also distributed checks of $800 to $1,000 to three waiters and "several" people in the kitchen. The checks aroused jealousy, and one waiter resigned. I tally at least $6,000 in tips from this one meal.
She once wrote an unidentified waitress, a single mother, a check for $8,000.
Her reputation at Chez Panisse was such that "the normally unflappable waiters would jockey for the chance to serve Huang." We don't get numbers on her tips there, but they can be imagined. Consider that a wedding bartender -- catering staff -- once netted a $400 tip from Huang, without even meeting her.
"It made me kind of sick, the effect she had on people. It was ugly," says Elaine Smith.
Labels: labor, restaurants, service