If you could please buy many more overpriced cocktails, much more often, that would be greeaat ...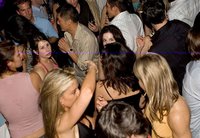 So 7X7 Magazine assembles six nightclub owners to talk business and, whaddya know, they immediately start railing on how San Franciscans don't go out enough, don't spend enough money, things are soo much better in New York and Las Vegas, yadda yadda.
Call it part deux of
The Eternal Wait for Big Expense Accounts
, in which everyone from pension fund managers to the lowliest general manager awaits a massive litter of business fatcats to justify excessive investment in some niche of the hospitality sector.
Some choice quotes:
There's a lot of money in San Francisco. but people don't go out and spend it as much ... In NYC you don't even need a great concept. You could open anything and people will come in.


--Todd Palmerton, co-owner, Mamacita and Doubledut

ch
And:
LA, New York and Miami have the entertainment business driving a lot of the nightlife, especially on the weekdays when you have movie premiers. You get the fashion house
that wants to show off some new line, an agency that just signed a bunch of new actors or models. We don't have that here.


--Hugo Gamboa, co-owner, Suite One8One, Impala, Marina Sports, Mas Sake Freestyle, Glo
And:
This is a very expensive city to live in. Unless you have a high-paying job, it's very expensive to live here, never mind go out.


--Sunwoo Hwang, owner, Vessel
And, inevitably:
During the dot-com era there was a much greater cross section of people in SF [with money --ed.], so many more people went out every night ... I definitely think we have not rebounded from that.


--Gina Milano, founder, Bambuddha
As much as I like to be snarky lately, there are actually some good insights there.
Read the story
for the full roundtable, including more on the dangers of hip-hop, an owner cheating on his wife in his club and the resurgence of cocaine in SF.
Labels: bars, drunktards