A lecture at Silks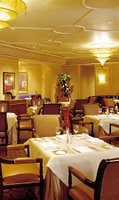 The following morsel positively leaps out of generally positive review of the Mandarin Oriental's Silks by Josh Sens in San Francisco Magazine's new issue:
Silks has a thick, world-traveling wine list, which may or may not explain why my server, on one visit, brought me the wrong bottle. Whatever the case, I didn't catch the error when she showed me the label, and when I sent the wine back (it was a sweet gewurztraminer, not the dry white I'd ordered) I also managed to send her into an evening-long pout. On my next trip to the restaurant, I was paired with her again and as she delivered the wine list, she muttered, "Read it carefully this time." Touche! But if I wanted a guilt trip, I could get one from my grandmother at a third the price.


Service stories like these -- and this one is especially choice -- have a way of provoking emotion in the reader and sparking endless discussion in a group setting.
My own spin here is that ideally, the diner would take care to read the label when it is presented. If the wine is opened and then found to be erroneous, one would consider trying to make do.
But ultimately, if the diner asks for the opened wine to be returned, it is a judgement call on the part of the restaurant. I personally would want a restaurant to accommodate the request, particularly given the quite likely sky-high markup on a typical bottle of white wine and the fact that the diner will be paying for another bottle.
And clearly, whether the restaurant has decided to accommodate such a request or not, it is plainly rude and foolish to grumble at the diner about the incident when he has the good grace to return and order more wine to boot.
The devil, of course, is in the details, and we only have one brief account of this incident. But what an account!
Labels: hotels, restaurants, service