Shopping and scotching at Cesar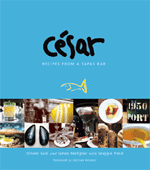 I finally spent an evening at the new Piedmont Ave. Cesar, which I
wrote about
in Sept. 2005 (about a month before the Chronicle).
The new location has about 50 percent more seats than the original Cesar Berkeley. And all the extra space in between the seats and tables makes the Piedmont location much easier on your eardrums.
Having been to the Berkeley location many times, I was prepared for a drawn-out battle to secure a table or bar position, but upon walking in at 7pm on a Thursday, four of us were quickly presented with a nice wooden table, and there were a few other spots open.
What jumped out at me about the new location wasn't its expanded menu or reliably food selection of whiskeys and rums -- it was the retail-and-takeout section off on the right side of the restaurant.
The Cesar partners
call this "cesar mercado"
and have been wanting to do retail since at least three years ago, when they
considered putting a retail outlet
in the Berkeley gourmet-to-go food hall then in the planning stages.
That deal fell apart but has been reborn at the Piedmont location. They sell wines, oils, spices and other goods for a "Spanish pantry." There are also takeout and finish-at-home items.
Charles Phan is doing something similar with his Out the Door concept, which originally went in next to his Slanted Door restaurant at the Ferry Building but is soon to open in a new, expanded form at the Westfield San Francisco Centre. Bette's Ocean View diner in Berkeley has a next door shop, as does Girl and the Fig in wine country.
The idea seems to have several merits:
Make use of staff during slow weekday afternoon periods.
Use the restaurant brand to sell higher-margin, lower-labor products than menu food.
Put products in people's homes that will remind them of your restaurant and, presumably, bring them back in more often.
Labels: oakland, restaurants