Kimpton fermenting hotel in wine country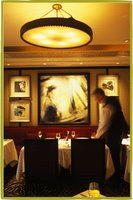 There were several things to learn at the party Monday night celebrating young Fifth Floor chef Melissa Perello's Michelin star, first among them that Melissa Perello would not have anything to say to assembled guests, but would stand and smile politely beside her hotel's General Manager as he spoke on her behalf.
(Not that I blame her. The event was in the middle of dinner service. Talk about timing -- do you chefs get this a lot? "Yeah, we're going to honor you at the busiest possible moment in the day, and oh by the way can you put together some apps and pastries beforehand ...?")
I also learned that Oprah, allegedly, had planned to put the organic vodka from Novato, Square One, on her "Favorite Things" list but decided hard liquor endorsements did not suit her image so shuffled the product off to her magazine, where someone else raved about it. Business, apparently, is through the roof.
I learned that I am worthy of not one but several glamour shots for the pages of party host Papercity, including several awkward over-the-shoulder glances (suggested by the photographer).
The most important thing I learned was from a Kimpton source who let slip that the San Francisco boutique hotel chain has plans for a property somewhere in wine country. No word on timing, whether they've identified a property or site -- it might just be a glimmer in Mike DePatie's eye. But it's in the cards.
Labels: food, hotels, restaurants, scoop