Everyone's a critic. No, really.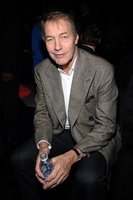 Two remarkable blog posts today reveal how quickly word of bad service can travel.
The most horrid example is New York magazine's Underground Gourmet, who
waited
45 minutes for roast chicken at a West Village place, only to see it delivered to TV dude Charlie Rose less than five minutes after the VIP walks in the door. A waitress then lies, saying the chicken was "accidentally" misdirected and offering free pasta while another chicken is roasted.
SFist, meanwhile,
recounts
being ignored, seated late and seated quite poorly at a table that sounds like it should not exist in the first place at Harry Denton's.
In the old days, the only recourse was to tell your friends and threaten the manager. These days, anyone with time and a legitimate example of poor service can find a ready audience online.
Which is hardly news -- to anyone, it seems, but several platoons of clueless chefs and managers, who don't seem to realize that the price of stealing from the status-poor to give to Charlie Rose is higher than it has ever been.
More bloviating on the topic in the
Gawker comments
.
Labels: restaurants, service