No Town Hall in Oakland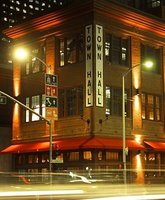 The
discussions
between the Town Hall guys and Signature Properties, which would have brought the restaurateurs to the Oakland's Uptown district, have fallen through.
The impression I got was that Doug Washington and Mitchell and Steven Rosenthal, the Town Hall partners, had their hands full with Salt House, a new concept two blocks from the original Town Hall in SF's SoMA district. Without heavy financial incentives from Signature, they probably weren't going to come to Oakland.
And what condo developers is going to sink a lot of money into incentives amid a tumultuous market and falling prices?
Labels: oakland, restaurants, scoop