Frisson guys to open second restaurant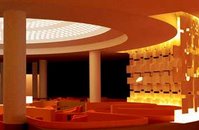 Frisson managing partner Andrew McCormack and his backers are opening a second restaurant, a much cheaper affair than Frisson that aims to be much more profitable.
I report this in a story in Friday's Business Times
(FREE link).
Frisson was rumored to cost as much as $7 million when it opened two years ago, and only started turning a profit on an operating basis six months ago. This time around, McCormack is opening a much smaller place, holding less than a third as many people in perhaps 1/10th the space.
The new concept is a Spanish restaurant and bar --
not
tapas -- called Laiola. It is slated to go into the former Pizza My Heart's space on Chestnut in the Marina, about 1,500 square feet seating 60. The acquisition of Pizza My Heart and its lease has not closed yet, however.
McCormack and his partner in the venture, Frisson GM Joe Hargrave, told me they could see opening close to half a dozen of these little neighborhood places over the next several years.
To keep Laiola profitable, McCormack has made its bar roughly twice as large as normal, holding 20 of the 60 seats. That should help grow alcohol sales and turn seats more quickly.
Also, by positioning the restaurant as casual rather than aspiring to four stars, as at Frisson, he dispenses with positions like reservationist, hostess, runner, sous chef and pastry chef. He figures he can run the place with around 10 people at a time: bartender, barkeep, two servers, busser, chef, three cooks, perhaps one more.
This means he can keep total headcount under 20 and avoid the city's approx. $1.50-per-hour health care fee for uninsured workers.
FREE link:
Growing appetite for S.F.
Labels: restaurants, scoop