Hotel holiday sale, prices higher than ever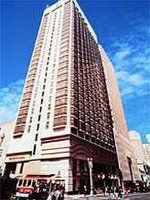 As predicted, a second wave of hotel sales is in full swing, reprising the mass trading of last winter.
Now up for sale:
Crowne Plaza (400 rooms, $100-120 million, FelCor)
Hyatt Regency Embarcadero (805 rooms, $200 million - $320 million, Strategic Hotel Capital, retail strip)
Hotel Palomar (200 rooms, Kimpton, Fifth Floor restaurant)
Cypress in Cupertino (225 rooms, Kimpton)
Maxwell (153 rooms, Joie de Vivre)
Villa Florence (182 rooms, Kimpton)
Prescott (140 rooms, Kimpton, Postrio restaurant)
Sold or in the process:
Renaisance Parc 55 (1,010 rooms), Oakland Marriott (484 rooms), Oakland Courtyard (157 rooms) (Larry Chan to Rockpoint, Highgate and a Hong Kong group, Highgate did not go in on Oakland properties) ($250 million) (still in process)
Commodore (110 rooms) (Joie de Vivre to anonymous buyer converting to residential)
Monticello Inn (91 rooms) (Dern Greinetz to Larkspur Hospitality) (Kimpton managed)
I
detail the most recent deals in the Friday Business Times
.
The only sale so far, the Renaissance Parc 55, does not bode well for pricing, so people are watching to see how the other deals play out. But there seems to be plenty of capital still in the market, and plenty of confidence business will continue to improve in San Francisco.
Issues of panhandling and cable car fares aside.
Labels: hotels, real estate, scoop