'I am also deeply sorry they picked this picture of me.'
If you are not following BeyondChron's coverage of how a Kenyan UC Irvine professor was
racially profiled
at Hotel Vitale, you really should check it out, if only because this is an issue that people are going to be talking about for a long time.
Capsule summary: The Professor is in town promoting his Random House-published book at an African American studies convention. Employee at Hotel Vitale, where he is staying, orders him off a Vitale patio where he is reading his paper, and allegedly persists in doing so after the professor informs the employee he is a guest. Professor complains to hotel manager, who doesn't seem to care much, and switches over to the St. Francis hotel.
Story picked up in Kenyan press, U.S. ambassador personally apologizes, local community radio station KPOO runs with the item, which is picked up on BeyondChron.
Anyway, Chip Conley, CEO of the SF boutique hotel chain that runs and partly owns the Vitale, apologizes in a letter sent to BeyondChron. It's a pretty unequivocal apology, admitting that profiling occurred, noting the employee is "ashamed" and has been put on leave and adding that three apology letters gave been issued to the professor.
The letter also gets into how the company already has diversity training but will add more, states that Conley went to an inner city high school and has an African American partner and a part-African-American foster son.
Read it here
.
What picture runs in BeyondChron next to Conley's "I am deeply sorry" letter? This one: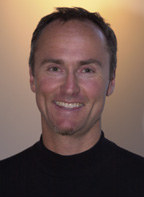 Great shot for promoting a company called Joie de Vivre, but not the best art to go next to a letter expressing serious regrets.
Labels: hotels