Eater.com may come to SF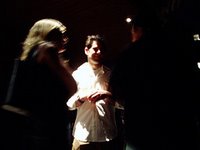 Restaurant gossip site
Eater.com
may be coming to San Francisco,
the Associated Press reports
.
The site is run partly by Lockhart Steele, the ubiquitous blog editor whose other gigs include a role running media site Gawker.com and real estate stalker Curbed, both out of New York. His co-editor Ben Leventhal (pictured) also has links to Gawker, via the Gawker-owned site Gridskipper, and ran (runs?) the smartly-written (and thrillingly cryptic) dining guide shelovesny.com.
(Ed.: If you want a shot an interview, Ryan, you're going to have to kiss up more than this...
RT: Are you kidding? They couldn't cover my scotch expenses, much less my salary.
)
Eater has restaurant flacks annoyed in Gotham, according to the AP, but is that really so hard to do?
The more interesting question in San Francisco would be whether an SF outpost of Eater would prod the San Francisco Chronicle to staff its Inside Scoop restaurant column, written by the collective food staff since Amanda Berne left for a gig at Ten Speed Press last fall.
Food Notebook, where I first saw the AP story
, says "oh, dear."
Labels: restaurants