Hyatt Regency sells for $200 million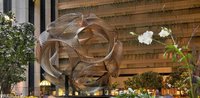 The 802-room Hyatt Regency at the Embarcadero has sold for $200 million.
The property is the fifth-largest hotel in San Francisco.
The buyer is a hedge fund operator out of New York, Dune Capital Management, and a real estate investment company in Southern California, DiNapoli Capital Partners . The seller is Strategic Hotel Capital LLC, a fund whose primary investors are Goldman Sachs and Prudential Real Estate.
No immediate changes as a result of the deal, since Hyatt has a long-term management contract on the property. Possibly some sprucing up of the retail along Market Street, right near the Ferry Building, and of the bar and restaurant and retail inside the hotel.
Most interesting is the $250,000 per key sales price, at the low end of market expectations, which had ranged up to $400,000 per key. That's what Campton Place had gone for, and the St. Francis sold at close to $375,000 per key, albeit bolstered by attached retail with Union Square frontage.
I had this one all lined up for Friday's paper, but an unexpected press release forced it out onto the Web this morning:
S.F. Hyatt Regency sells for $200M
(free link)