Dean Singleton vs. Santa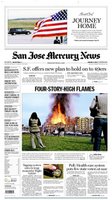 Carter Lusher wonders
whether Silicon Valley's hometown paper, the San Jose Mercury News, is cutting back on its food section, or whether it's just the staff off on holiday. Either way, Carter notes, the competition did a much better job this week:
... There seems to be more reprints from other newspapers than usual. Only one of the free page one stories is by a local, Laurie Daniel on great wine buys, and only two of seven interior articles are locally produced.
The Mercury News was recently acquired by
Dean Singleton
, who has a reputation as a "merciless cost cutter," in the words of the New York Times.
Labels: restaurants