Japanese sushi police headed for San Francisco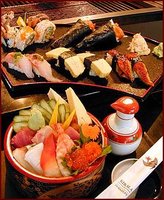 The Japanese agriculture ministry is planning to start certifying "authentic" Japanese restaurants abroad as soon as this year.
Since fully half the 20,000 overseas Japanese restaurants are in the U.S. , Japanese culinary spies are certain to end up at some point in San Francisco, a pivotal front in America's war on proper sushi.
The Japanese are apparently alarmed at our various bastardizations, like the California roll and the Wal Mart sushi counter. More alarming still, 90 percent of our "Japanese" restaurants aren't even run by Japanese people or people of Japanese descent, the agriculture ministry points out -- though it remains to be seen if our Korean and Chinese sushi chefs fare any worse (or better!) than their Japanese colleagues.
The full situation report in the Financial Times Weekend adds:
Of course, the ministry made it clear that xenophobia is not the motive behind its authentic food-finding mission. But this has not stopped critics from lambasting the move as an act of hypocrisy. After all, Japan is a country that has in equal measure bastardised western cuisines to suit local palates. Will the Italian food polizia crack down on restaurants in Japan that serve spaghetti topped with mentaiko - spicy cod roe? Will the US culinary brigade outlaw fast food outlets that serve rice burgers?
Financial Times:
Japan's 'sushi police' are on a roll
(free)
Labels: global restaurants, restaurants