Levende Lounge and Ozumo expanding to Oakland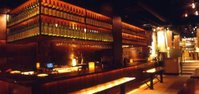 Levende Lounge has just taken out a lease for "Levende East" in Old Oakland, at the former Rex's bar and grill at Washington and 8th St, right across the street from another SF transplant B's (from the Boxed Foods people).
Ozumo is "eager" to close late-stage negotiations with Signature Properties at Broadway Grand in Oakland's Uptown district. Though this is much further along than the Town Hall deal that fell apart, it's never a sure thing until the doors open.
And, as reported elsewhere, Rich and Rebekah Wood sold Frascati in Russian Hill to open Wood House in the former Grasshopper in Oakland's Rockridge district. (As not reported elsewhere, they are bringing over their old Frascati executive chef,
Maximilian Dimare.)

Three makes a trend, so I dig into the three deals in a front page story in today's Business Times (free link).

All restaurants involved site rising costs in SF as at least one of the reason for crossing the bay. Downtown Oakland restaurants are also just a few minutes from SF by BART or, on good days, bridge, which makes it easier to train and oversee staff. Some of the owners live in the East Bay. There's also the building boom in downtown Oakland, combined with the scarcity of existing high-end restaurants.


Labels: oakland, real estate, restaurants, scoop