Hilton's $13m Gramercy Tavern lookalike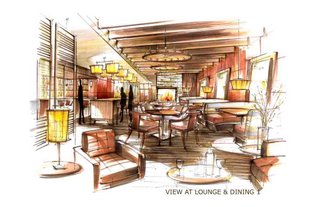 The monstrous San Francisco Hilton can't stop eating.
So it's building an "urban tavern" to lure gullible prey
(free link).
Traumatized onlookers will remember that the 1,900-room beast
ritually devoured three general managers in as many years
. But the hotel is still hungry and must be fed, so out come the barrels of delicious, sweet cash money to fill its belly -- for now.
Hotel owners have set aside $13 million to build a restaurant and bar with 240 seats, plus 20,000 square feet of adjoining meeting space.
The place has no chef or name yet, but Hilton has a pretty developed idea of what the place will be.
It's a gastropub, a bar serving gourmet renditions of hearty foods. It's supposed to lure in unsuspecting businessmen for lunch or dinner. Before they know what's happened, they will be handing over their Amex Black cards for backslapping parties in the private wine room, global arbitrage lectures in the meeting hall and client suites in the hotel tower.
Ideally, they won't emerge from the hotel for several years, confused and destitute. Hotels around town have become increasingly adept at this game in recent years,
leading to a slew of new high-end hotel restaurants
(free link).
Hilton's restaurant is designed to mimic the investment banker's natural habitat: clubby, with dark woods, faux leather, copper and these medieval looking chandeliers. Engstrom Design Group has been working on the interior and expects to begin demolition in August.
The place was built with an eye toward Gramercy Tavern in New York, according to Hilton's new Food and Beverage Director Stefan Gruvberger. But it's unlike anything else in the Hilton chain and is supposed to feel very separate from the hotel.
It will even have its own entrance, near the corner of Mason and O'Farrell, and the Hilton logo will be banished from the premises. It is set to open in March 2008.
Full story:
Hilton to spend $13M to build new restaurant
(free link)
Labels: hotels, restaurants, scoop, the hilton demands human sacrifice