Tyler Florence moving to Bay Area from NY, is talking to Kimpton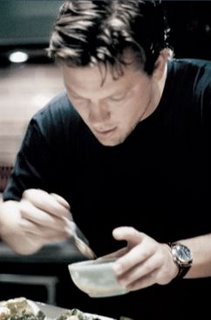 Because I'm cheap, I haven't had cable at home for a few years now, prefering to watch my favorite shows on DVD from Netflix. This led to an awkward situation
when
I
interviewed
Tom Colicchio at 'wichraft SF and he had to explain to me that he was on TV and what Top Chef is, by way of answering a question about traffic to his restaurant.
I am similarly not sure how to play Tyler Florence's move to Mill Valley from New York, confirmed for me just now by his wife (and press contact), since I am not well acquainted with any of his three Food Network shows -- Food 911, Tyler's Ultimate and How to Boil Water.
Will this be giddy news, as the accompanying photo suggests, to all of Tyler's female fans in the Bay Area? Is he admired by local chefs despite his partnership with
Applebee's
? After all, he was listed in Bill Buford's New Yorker
takedown
of the Food Network as part of the more credible first wave of hosts on that channel, as opposed to the more telegenic later waves.
In any case, I note in my
Business Times Web update on Tyler's move
, where you can get more info on this, that:

Florence could likely pick his opportunities in San Francisco. In addition to the three Kimpton openings, the 1,900-room downtown Hilton needs a chef for its planned gourmet tavern; the Argent/Westin is putting in a high-end Italian restaurant and has held talks with PBS chef Nick Stellino; the 1,500-room downtown Marriott has announced it will overhaul its restaurant; the InterContinental hotel under construction next to the Moscone Convention Center will have a 24-hour Italian restaurant and has announced no chef; and HEI Holdings is redoing the restaurant at Le Meridien.
GraceAnn Walden
, by the way, broke news of Tyler's move in a brief mention in her monthly e-mail newsletter earlier this week, so consider signing up for that on her
website
. I am the first to report he is in talks with Kimpton though, so I'm going to mark this as "scoop."
My full story:
TV chef moving to Bay Area
Labels: restaurants, scoop, Tyler Florence thinks he lives in Provence