Google computer nerds to teach children how to eat healthy. Oh holy God.
Google
invites you
to bring your children to its Mountain View headquarters next month for pizza, soda and television so it can teach them how to not be obese.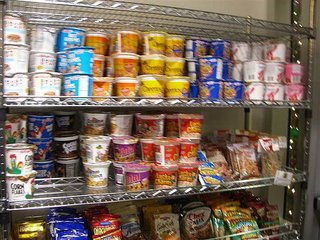 If you're afraid your kids are going to grow fat
watching television on their computer
or
chatting
with
friends
on the computer or
surfing
the
Internet
all day on the computer or deciding to become
computer programmers
who marry their computers and eat chips and Mountain Dew until the day their
startup gets bought
by the
world's biggest computer
, probably the best way to allay your fears is to march them down to Google headquarters.
Go there on October 20, when the company is fighting childhood obesity by holding a benefit for a TV show aimed at children.
The
show
is called "DooF" -- "food" spelled backwards -- and airs on PBS.
The benefit basically is a day of eating and walking around the Googleplex, but hey it's not as bad as I make it sound: the pizza is from an organic "make your own" workshop deal that will be led by Steve Sullivan of Acme Bread and by Google's pizza chef.
The soda is Italian soda from a "Euro Cafe" so, uh, probably still not healthy.
The TV is just a big screen showing interviews with kids at the event itself so it will not keep your kids glued.
You also get to tour an organic garden, sip smoothies, learn about "raw foods," taste apples from Donner Trail Fruit, do a food spelling bee, have a cheese sniffing contest with Cowgirl Creamery, and listen to some hip hop dudes called "Felonious." Fair enough.
Just make sure you don't accidentally come on some other day, or your impressionable youth will instead learn how to set up a webcam, start a blog and immerse herself in software development so that she can someday work in
a giant computer
that controls her
transportation, laundry, diet, hair style
,
dating options
, etc.
And bring some cash because Google can't just be letting anyone in the door for free, it's not like they are made of money.
Business Times:
Hey kids! Come pig out at Google!
Labels: business times, food, restaurants