Limon or Dosa at Mint Plaza??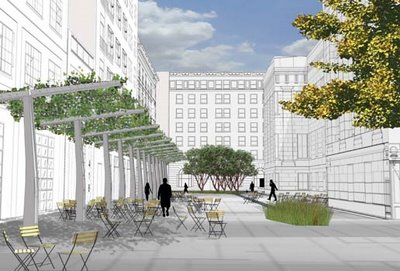 Like a sweet, sweet Julep on a hot Kentucky Derby day,
everyone is grabbing
at
Mint Plaza
, a dingy little lane where Martin Building Company is building a restaurant row to rival
Belden Place
.
The plaza includes three large restaurant spots, one spoken for by Portrero Hill bistro
Chez Papa
and the other dibbed by Russian Hill's
Sushi Groove
. Cult coffee roaster
Blue Bottle
has a café in 800 square feet, as well.
The third big spot was to go to the Castillo's family's Peruvian-Californian restaurant,
Limon
, but talks fell through.
Then, I was told by a source involved in the project, talks shifted to
Dosa
, Emily and Anjan Mitra's South Indian place about five blocks away in the same Mission District neighborhood.
Today, the Chronicle's Inside Scoop
reports
that Limon is back, "getting close to signing a lease."
Indian, Peruvian – the bigger question is whether Martin can make a culinary destination by photocopying neighborhood restaurants and tearing them out of their original, uh, neighborhoods. Hmmm. Worked for the Ferry Building, I guess.
Oh, and Chez Papa and Sushi Groove were supposed to open by Labor Day -- what happened to all that?
Labels: news wrapup, real estate, restaurants