Copia opening in San Francisco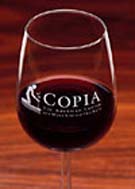 My colleague Sarah Duxbury has the scoop in today's Business Times on how Copia, a sort of food museum in Napa Valley, is opening a satellite office in San Francisco at Ghirardelli Square.
The SF Copia will share space with Cellar 360, a Healdsburg wine retailer than will offer tastings and small plates of food. Cellar 360 is a division of Australian spirits firm Foster's Group, which owns wine brands like Beringer and Stag's Leap, but the tastings will be run by people from Copia.
Copia will offer everything from a half-hour tasting course to a two-year certification from the Wine & Spirits Education Trust, Sarah writes. Copia is the only entity on the West Coast to offer such certification.
The 6,000-square foot facility is joined in Ghirardelli Square by Fairmont's fractional ownership hotel, set to open in thee fall.
Sarah's Copia story is not online; this may change on Monday but I wanted to post something today because I see the press release is going out.
Labels: bars, business times, food, restaurants