Gordon Biersch founder ditches SF for new restaurant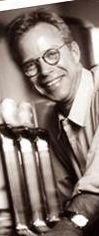 Gordon Biersch co-founder Dean Biersch initially wanted to put his new beer restaurant in San Francisco, but says he has
decided
to put it in the city of Sonoma due to spiraling costs in SF.
Biersch's tavern is to be called Hopmonk. The place is optimized for serving beer -- each beer is to be carefully selected, served in traditional glassware appropriate to that particular brew, and paired carefully with food.
The beers will be imported from Europe and selected from regional craft brewers in the U.S. Biersch will also brew a house pilsner of his own design, under contract to a brewer (likely Gordon Biersch).
The idea is to have a constantly-changing lineup of beers by category, for example during a winter month Hopmunk might feature bocks and dunkelweizens.
The food and decor is to be locally-inspired, with a Northern California flavor, rather than an imitation of the sort of pub and pub food one might find in Europe. Though it will use local ingredients, Biersch is not aiming for a high-end "gastropub" type menu as at, for example, Salt House, but more of the traditional bar foods -- sandwiches, burgers, soups, salads.
I have the full story in the Business Times:
Biersch taps out in S.F.
(free link)
Labels: bars, restaurants, scoop