Ozumo East is confirmed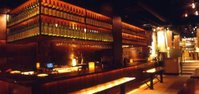 I
reported a month ago
that Ozumo was likely to go into Oakland; I report today on the Business Times website that
the deal has closed and Ozumo's Oakland location confirmed
(free link).
Ozumo Owner Jeremy James told me in January:

"We're a well established, highly thought of San Francisco restaurant. Opening a second store in Oakland would be very comforting ... It always feels good being wanted."
...


"In terms of a more welcome business climate, Oakland is right off that bat," James said.
Ozumo's Oakland location will go into 8,000 square feet at the new Broadway Grand condo project in the Uptown district, at Broadway and Grand Ave. The project is still under construction but sales begin Feb. 24.
The new Ozumo will include an "
Izakaya
" menu of bar snacks.
There's
more on Broadway Grand in the Chronicle
. I confess I sat on this item for a few days and only corrected my delinquency when I saw it mentioned briefly in the Chron story this morning.
Labels: oakland, real estate, restaurants