SF tourism hurt by U.S. image, hostility to visitors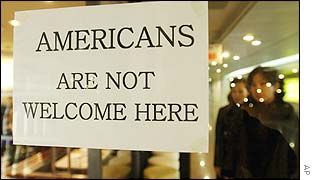 Former Bush State Dept counterterrorism official Cari Guittard was among the officials Tuesday warning SF hospitality leaders about the need for political action to ease the visa process and make foreign policy changes to help the U.S. image abroad.
I first
wrote about the visit Friday in the Business Times
(free link), and it unfolded Tuesday as expected. Guittard was among the speakers at the Convention and Visitors Bureau's "Outlook" conference, which this year focused on potential international visitors and their perception of the U.S.
Guittard is a Texan who worked in Colin Powell's state department. But she left the administration (as did Powell, a relative dove in the Bush White House) and now heads Business for Diplomatic Action, a nonprofit that urges changes to combat the perception that the U.S. is arrogant.
Guittard and others argue that international travel into San Francisco is not nearly what it could be if U.S. ports of entry, according to
a joint study her group did with the Travel Industry association in January
(PDF), were not so awful.
The study found:
Overseas travel to the U.S. has fallen 17 percent since Sept. 11 2001. This does not count Mexico and Canada, which both saw an increase.
From 2000 to 2005, travel to the U.S. from the UK fell 8 percent
... from Japan fell 23 percent
... from France fell 19 percent
... from Germany fell 21 percent
... from Korea up 7 percent
... from Australia up 4 percent
54 percent of international travelers say U.S. immigration officials are "rude" according to a study by RT Strategies
66 percent are worried they will be detained for hours for a simple misstatement or mistake

the same RT Strategies study also found the U.S. was by far the number one preferred destination from a list of 10 broadly defined choices
One survey showed the U.S. has the world's absolute worst entry process
More in
the study
(PDF) and
my Business Times story
(free link).