Pork belly: So hot right now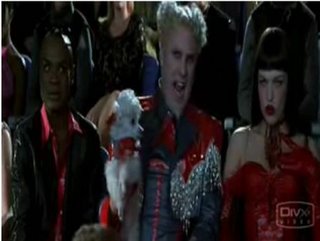 Knife's Edge writes that pork belly has become "
so trendy that by now I'd say it's passe
."
The chef reports that denizens of his Northern California town are flocking to his own restaurant's pork belly with root beer reduction, which he originally thought would be too adventurous for most customers.
He writes: "It's selling. More than we ever have before. Perhaps the mullet wearing citizens of my town only see the BEER part of the sauce and their eyes glaze over."
I enjoyed a wonderful pork belly
at Ad Hoc on Superbowl Sunday
, then noticed it the other day on the menu at Vitrine in the St. Regis. Some Web searches turn up pork belly recently on the menus of
La Folie
,
Farallon
,
Salt House
,
Cortez
and
Redd
. Among others, surely.
Next stop:
Olive Garden
.
Full Knife's Edge pork belly post:
C'est la vie say the old folks
Labels: food, restaurants