Al Gore gets new Chairman of Joint Chiefs of Room Service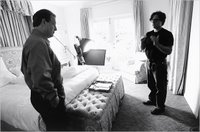 When Al Gore is staying in his
San Francisco pad
at the St. Regis, he has certain needs.
He might need some (more) late night snacks delivered up to his condo while he polishes another PowerPoint stack.
Or he might need his Prius or whatever valeted do he can drive down to Cupertino to
clear Steve Jobs of any responsibility
for thousands of instances of stock option backdating at Apple.
Or maybe he just needs the St. Regis bar sealed off so he and Nancy Pelosi can have some peace as they order cosmos, gossip and conspire to
spread extreme San Francisco values
to innocent children via the Hollywood media machine.
Whatever Al Gore's specific hotel service needs, they are provided by the staff of Starwood's St. Regis hotel, a staff that until this week was overseen by general manager Elias Assaly. Assaly is a longtime industry veteran, having
opened
the W San Francisco and run a luxury hotel in Dallas.
Now, Assaly is on his way back to Dallas. So Al Gore's no-doubt-increasingly-difficult, Oscar-winning-A-lister-Hollywood-celebrity-level demands on the staff will be coordinated by the new general manager Toni Knorr, who next week is
coming over from Starwood's W San Francisco to run Starwood's St. Regis
.
Gore is widely expected to demand "confirmation hearings" for Knorr, which he will chair.
Full Business Times Web update:
St. Regis gets new GM
(free link)
Labels: hotels