Campton Place for sale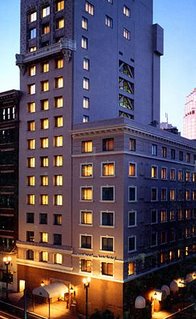 When Kor Group bought Campton Place a year and a half ago, it had four stars from Michael Bauer, ranking it among the top four restaurants within city limits, at least by the Chronicle's standards.
Campton Place's restaurant arguably made the reputation of the hotel, and was a key reason that Kor paid $400,000 for each of its 110 rooms, the city's richest hotel deal in seven years.
Things went downhill quickly after Los Angeles-based Kor started running Campton Place, its first SF hotel:
chef Daniel Humm left for New York;

Michael Bauer gave the restaurant a devastating review that cut it to two and a half stars and said, "

i

t's clear that Campton Place is no longer playing in the big leagues

;" and

the city's debut Michelin Guide said the kitchen had "

floundered

" and did not award it a single star.
Now Kor has put the hotel up for sale, I reported in Friday's Business Times (free link). Given the hyperactive market for San Francisco hotels lately, Campton hopes to earn a profit on the property despite the fortunes of its restaurant.

If a sale occurs, Kor's experience in San Francisco will have been brief. If the price isn't right, it will clearly have been bitter. Campton is Kor's last hotel in the city. The company briefly owned, then sold, the shuttered Canterbury Hotel.

To be fair, Humm said his departure had was not a result of the hotel sale to Kor. Also, whatever faults the restaurant may have, its pastry chef seems to have developed a loyal following in some circles.

Full story: Los Angeles group to sell lone S.F. hotel (free link)

Labels: hotels, real estate, restaurants, scoop