Campton Place sale is richest hotel deal in San Francisco history; also first involving pig iron manufacturer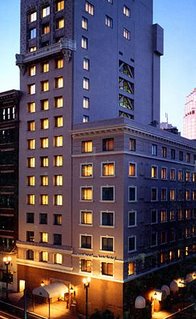 Campton Place
just sold
to a division of India's Tata Group for a record-smashing $527,000 per room.
Tata's Taj Hotels
will pay
$58 million for the 110-room property. Hotel consultant Rick Swig and Tom Callahan of PKF Consulting both say that blows other hotel deals out of the water on a per-key basis, surpassing the $470,000 per key for Ritz Carlton in 1998 and the $460,000 per key partner buyout at Four Seasons last year.
Tata is a massive conglomerate that makes cars, trucks, jewelry and pig iron, and yet they will still be much better at operating Campton Place's restaurant than the prior owner, hotel specialist Kor Group, Swig said. Apparently Taj is known for high service quality and a long-term commitment to their properties.
Kor didn't have a long-term commitment to Campton, selling it after less than a year and a half, during which time it managed to
nearly destroy the restaurant's reputation
.
I was chasing the story down last night. As it turns out, Tata put out a press release to Indian media Monday, and then Kor followed suit this morning in the U.S..
Business Times Web update:
Campton Place hotel sale smashes record
(free link)
Labels: hotels, real estate, restaurants