Corn is a sick depraved vegetable that will enslave us all, said (who else?) Michael Pollan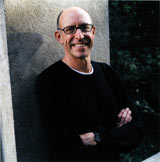 Speaking to an angry mob of local radicals who were probably looking to burn something down, author Michael Pollan may have taken his food purity crusade just a bit too far when he suggested corn, the vegetable, is
a sentient collective being that will kill us all
.
Pollan went on to say people should not sleep easy at night while demon corn is allowed to freely roam our streets.
From the Oakland Tribune:
"Corn is on a quest for world domination," Pollan said last week to a standing-room-only crowd at the Oakland Museum of California. "Corn has taken over our land, diet, and now cars with ethanol fuel."
...
"Politicians sleep easy when food prices are cheap," he said.

Pollan
won
plaudits
for his previous argument about corn -- that it was an inanimate object wielded as a simple but effective tool by a mindlessly self-perpetuating cabal of agricultural corporations and rural politicians.
But while it's tough for activists to remove a sitting Congressman, it's relatively easy to go after an innocent little veggie guarded only by a green husk and shaggy brown strings of hair, limping along with sad genetic mutations like a complete nervous system and set of teeth.
So Pollan may have decided going after corn, not certain politicians, is the easier route. Either that or Pollan had been eating at
Chez Panisse
that night, wink wink.
Oakland Tribune:
Corn aims to rule world, prof says (NOTE: This is the actual headline.)
Labels: Alice Waters will slaughter you while you sleep, food, Michael Pollan returns us to glorious Year Zero