Ozumo on a roll in Oakland. Get it?? Shut up.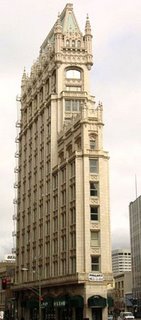 Ozumo is doing it YET AGAIN -- going for a new location in Oakland. They can't get enough of the Uptown district!
This is in addition to the new, second Ozumo at Signature Properties' Broadway Grand condo project.
Going beyond that done deal, the team behind Ozumo
told me they plan
-- but had not yet signed the lease to -- do a wine bar, wine shop and restaurant concept in the large basement of the historic (and attractive) Cathedral Building just a few blocks away from Broadway Grand. They have already applied for a liquor license.
My understanding, by the way, is that Ozumo will not be using the name "Ozumo" in connection with the new location, per agreement with their original Oakland sugar daddy/landlord Signature Properties.
For those who don't know, Ozumo is a swanky sushi place on the San Francisco Embarcadero near the financial district. Owner Jeremy James has been drawn to Oakland in part by lower costs there as the minimum wage rises in San Francisco.
I was tipped off to this story by
The DTO, the Web site that broke the news
. Go check it out! I'm still marking this "scoop" because I confirmed the advanced negotiations and plans and got details on the concept. Plus I'm MSM -- I'm evil like that. Muhahahaahahaa!
Business Times:
S.F. sushi place plans second Oakland spot
(free link)


Labels: oakland, real estate, restaurants, scoop