Selling booze: two approaches.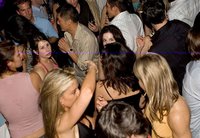 So you want to sell some booze. By the glass, that is, rather than by the case.
There are two theories on how best to do this.
The first,
epitomized
by Bourbon and Branch, is to make your place first hard to find, with no signage in a nasty part of town, and second hard to get into, with a locked door and reservations-only policy. There is a time limit governing how long you may stay.
There are two ways to interpret this approach. The less charitable one is to say such a joint actually won't make much selling alcohol because of sometimes
apathetic service
, arbitrary
ordering restrictions
and a holier-than-thou attitude. Maybe the real intent is to appeal to masochistic diners who derive more pleasure from the illusion of exclusivity and popularity than from actual hospitality -- or who mistake one for the other.
The more charitable way to interpret this approach is as a very savvy way to provide top service only to people who spend lots of money on
fancy bourbons, scotches, rums and tequilas
, the kind of folks who frequent cigar bars and steak houses. These people get attentive service and can stay as long as they want despite the written policies. They can backsass the bartender. And, just maybe, they'll eventually fill up enough of your bar to make it quite profitable.
I remain wholly unconvinced this is what is intended at B&B, or if it is intended that it will work as a business venture.
But there is a counter-trend, or at least a Second Way. Let's use Perbacco as an example, since they just opened and I just drank there.
Perbacco is located in an accessible, safe part of town -- the financial district, next door to Aqua and Tadich Grill -- that also happens to be populated by lots of people with money to spend. There is a sign on the door and good windows. To ensure good service, they have been hiring
staff away from other places, including the
lead sommelier from Aqua
.
If you want to visit, you just open the big, glass door under the big, fat sign, and walk right up to the bar. People have found this system so appealing that there are regularly huge crowds filling up Perbacco's bar most weeknights. I see them on my way home from work.
The coolest part, though, is the wine menu.
Check it out in PDF
. Not only do there seem to be many wines by the glass, and of a high quality,
you can get everything in a quarter or half bottle
.
There's not a lot to interpret in this approach. It straightforward, transparent and hospitable.
(A publicist tried to convince me this is a trend at restaurants around the city. I'm not so sure -- seems to me half bottles and wines by-the-glass have been gaining traction for many years. Do put your thoughts on this in the comments.)
(For the record, I paid my own way at Perbacco, as always.)
Labels: bars, drunktards, restaurants