Chefs ditch kitchens for Salt House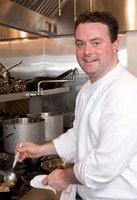 Salt House, the much-watched new entry from Town Hall trio Doug Washington and Mitchell and Steven
Rosenthal
, was stealing chefs from other restaurants Thursday night. Traci Des
Jardins
of Jardiniere was eating with friends at a table in the back while Cyrus' Douglas Keane was drinking and eating snacks at the bar.
One last-minute addition to the wine list, a 1998 vintage from
Lebanon
, was going for $80 a bottle, and at least three could be seen uncorked on various tables simultaneously when the night was still young. The subtle wine blended hints of blackberry and vanilla with echoes of
shrapnel
and gun powder in the finish.
Labels: restaurants