Return of the hotel restaurant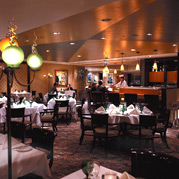 It is harder than ever for San Francisco hotels to skate by without a truly great restaurant.
First Michael Mina put his four-star restaurant into the St. Francis as part of a $5 million renovation.
Then Hiro Sone and Lissa Doumani of Terra in Napa Valley all but upstaged the opening of the St. Regis hotel with their success opening its restaurant, Ame.
And then Joel Huff turned Silks at the Mandarin Oriental into a three-and-a-half-star destination.
Now the Hotel Nikko is chasing the restaurant magic. New general manager Anna Marie Presutti, who earlier this replaced John Hutar after nine years, is renovating steak-and-sushi joint Anzu and installing a new chef,
Barney Brown
, former executive chef of Betelnut and proprietor of Basque.
Bill Kimpton really nailed this one 20 years ago. And these days San Francisco is even more reliant on food-and-wine-driven tourism, with many of the corporate accounts having shifted south to Silicon Valley and east to New York and the rest of the seaboard.
Labels: hotels, restaurants