Town Hall in Oakland deal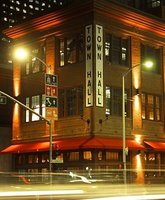 In Friday's Business Times, I reported that Town Hall is advanced negotiations to take space at the Broadway Grand condo development in Oakland, at Browdway and Grand Ave. in the Uptown district, right across the street from Luka's Tap Room.
Town Hall's publicist cautions that "this is not a deal with all signed on the bottom line" and "the ink is far too wet to make it for real."
Another important caveat: Though backed by the same team as Town Hall, the new restaurant would not carry the Town Hall name, per agreement with their SF landlord. They are also still racing to open their first spinoff, Salt House, two blocks from the original, by the start of November.
The link is subscriber-only until Nov. 6:
S.F. restaurants eye opening Oakland outposts
Town Hall was one of the SF restaurants mentioned in my earlier post about
restaurants in Oakland's bustling Uptown district
.
Labels: oakland, restaurants, scoop