Alice Waters at Cody's tomorrow night; will get you high, kill us all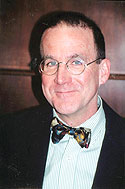 Alice Waters biographer Thomas McNamee
will be at Cody's San Francisco
tomorrow night, 7 pm, which means Alice will certainly be
remote-controlling
his every last word and gesture and will effectively be present herself. Should be awesome.
The reading starts at 7 and the tentative agenda is:
7:05 pm Welcome and inconsolable sobbing from Cody's owner Andy Ross.
7:10 pm McNamee hands out Waters' famous PCP-laced tarts to lucky first 20 guests.
7:15 pm Reading begins with chapter on Waters' CIA training in Santa Barbara and how she came up with genius ruse of creating hippie restaurant in Berkeley to lure, spy on SDS and Black Panthers and free-thinking professors.

7:22 pm Visibly intoxicated John Birdsall arrives.
7:23 pm Waters "security detail" of Trotskyite drug lords moves to eject Birdsall, not realizing he has concealed a chef's knife under his apron.
7:24 pm McNamee's batteries run out just as he was getting to something interesting on arugula, crowd becomes frantic.

7:25 pm High off organic Columbian cocaine, Waters' "security detail" panics when a foaming-at-the-mouth Birdsall unsheaths his bloody knife. In the ensuing chaos, they spray the entire crowd with standard Chez Panisse-issue Uzis.
7:26 pm Ross reminds survivors there will be NO REFUNDS on unsigned books.

See you there!
Cody's Stockton Street:
Tuesday, April 10, 2007 - Thomas McNamee
Labels: Alice Waters will slaughter you while you sleep, food, John Birdsall skips his meds, restaurants, Things deemed to be "awesome"