Metreon could become convention center; humans, cylons would meet for peaceful dialog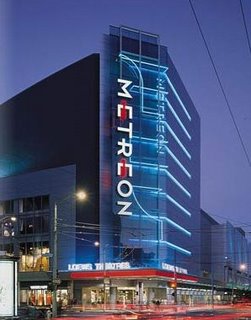 The San Franciscan fable of Metreon has a familiar ring to it: Humans devise a grand utopian project that will weave technology into their lives as never before, but despite a supposedly failsafe architecture end up with a cybernetic hell spawn threatening to coldly exterminate life as they know it.
The Metreon hasn't extinguished all vital signs inside its brutal walls quite yet. The Yerba Buena arts district shopping center retains the most primordial forms of mall life: food court restaurants and a movie theater. Plus it's got two electronics stores operated by Metreon's original developer, Sony.
But the project is hardly the bustling theme park
envisioned
when Metreon opened eight years ago. Anchor shop spaces remain open, and the building often has a deserted feel to it.
So the city's convention and visitors bureau
now proposes
Metreon be used as a conference center and merged into the Moscone Convention Center, which it sits on top of. The idea was a suggestion from convention planners -- Moscone customers.
Apparently they have been forced to send some convention "breakout" meetings to hotels like the Hilton and Marriott due to lack of available meeting rooms. They have also been grumbling about shabby carpets and non-soundproof room dividers in the main Moscone Center, plus a lack of WiFi and cellphone coverage, so the bureau is also asking for money to fix that up as well.
Westfield, which
took over
Metreon last year, did not rule out the idea, but says it is focused on a retail turnaround.
Full story from Friday's Business Times:
Officials eye Metreon for Moscone expansion
(free link)