Hubert Keller's Burger Bar coming to SF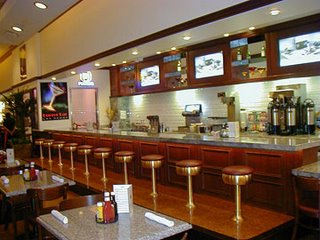 Fleur de Lys chef-owner Hubert Keller is bringing his Las Vegas concept Burger Bar back home to San Francisco, though he has not yet picked out a location.
Keller is also spreading Burger Bar to St. Louis, where one is already under construction as part of a casino project, and possibly to Hawaii.
Keller told me Burger Bar is doing close to 1,000 covers per day in Las Vegas and that he is hoping it will soon cross the $7 million per year revenue mark. Bon Apetit credits the ultra-luxe hamburger joint with spawning a long line of imitators after it opened in March 2004. High end burger places have since opened from chefs like Laurent Tourondel and David Burke in New York, Bobby Flay in Las Vegas (reportedly) and of course Thomas Keller in Napa Valley, who is
hoping
to soon uncork his burger place.
(Of course New York chef Daniel Boulud was serving a high-end burger at his DB Bistro Moderne by the start of 2003, before Keller's Burger Bar, but that was not a standalone burger joint.)
I
report all this in today's Business Times
, along with what neighborhoods Hubert is looking in, what other restaurateurs think of the idea and why SF may be more perfect for Burger Bar than Las Vegas.
Labels: real estate, restaurants, scoop, vegas